The Musical Facade
Documentation
One Line Summary
An art installation that responds to music by syncing its motion with the frequency.
Description
The final project of the How to make almost anything course at Fab Lab deserves a special mention on its own for its novelty. The project was conceived by Ar. Urvi Sheth with whom me and Ankita were working as interns. Created using acrylic cut pieces after a series of design iterations on cardboard, the assembly twists around the central piece. Ornamental patterns are generated through constrained rotational motion of successive pieces. The L293D Motor Driver (H-bridge PCB; 150 RPM, 12 V DC Motor) is connected to an Arduino Duemilanove (Freeduino) that modulates its RPM based on the frequency of music being played. A music is played on a laptop and a Processing sketch quantifies the frequencies through FFT Spectrum analysis (minim library) and passes it on to the Arduino sketch which then modulates the RPM according to frequency received.
Time
August 2016
This project was headed by Ar. Urvi Sheth with whom I and Ankita Diwan worked as interns. The project was inspired by the works of Akira Nishihara who has conceived geometrical tile patterns that are connected in a way that they reconfigure to different patterns when twisted.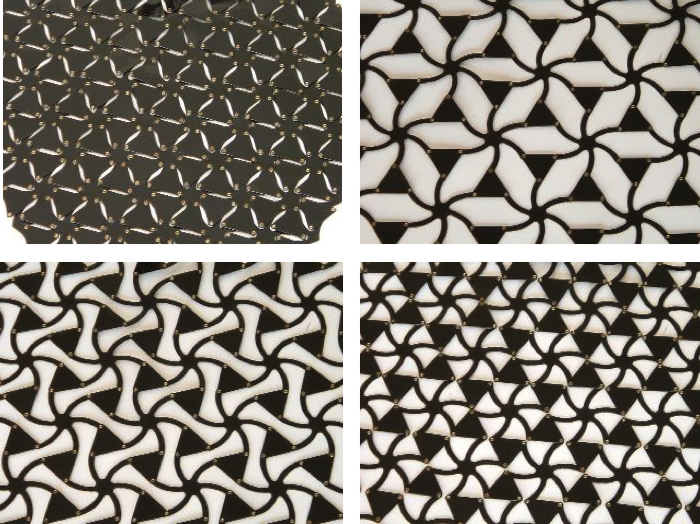 Such a pattern was perfect for this project. The idea was to make a facade out of tiles that are rotated by a motor which is in turn triggered by music.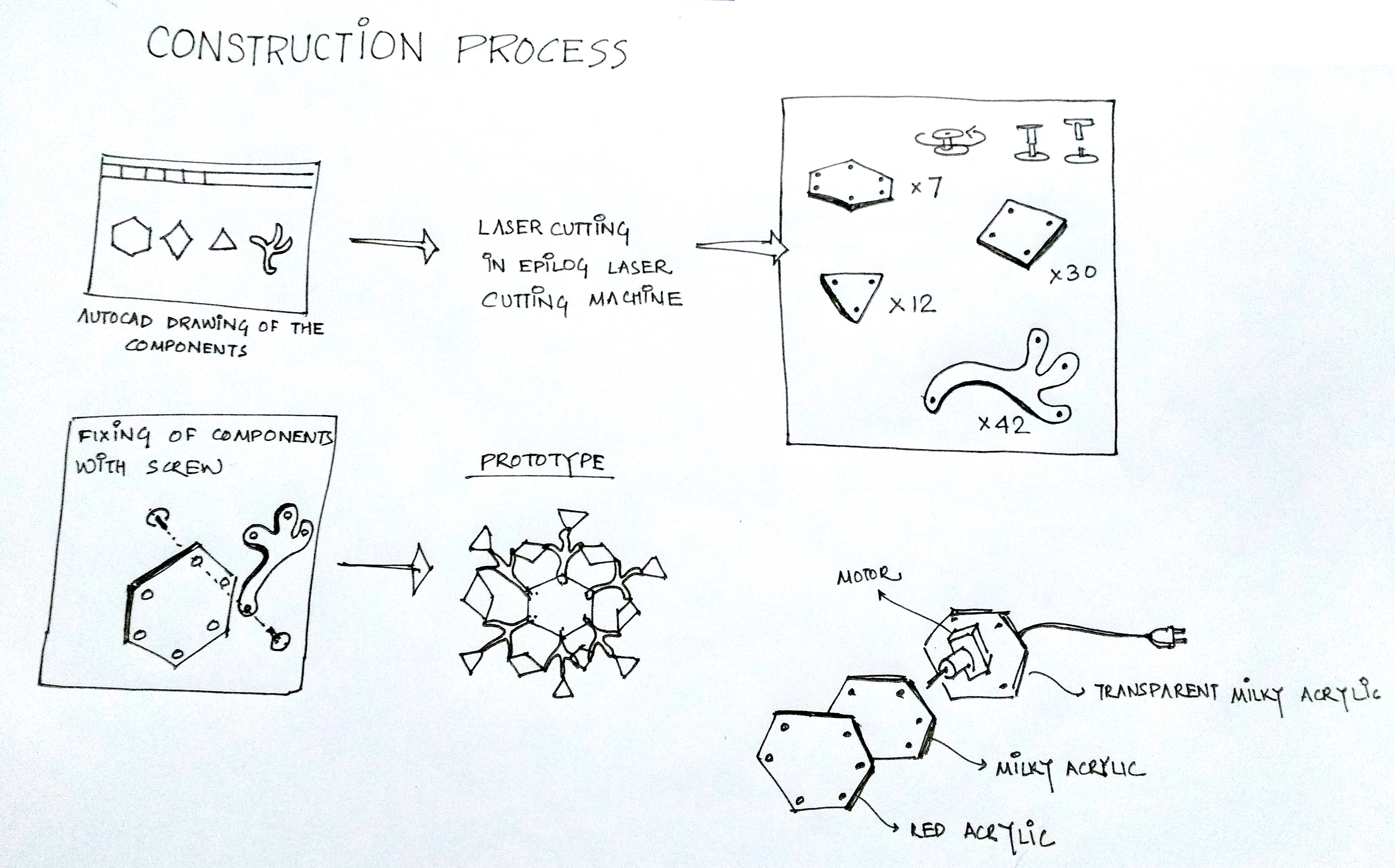 The storyboarding help us arrive at the initial MDF prototype with dimensions assumed by the image.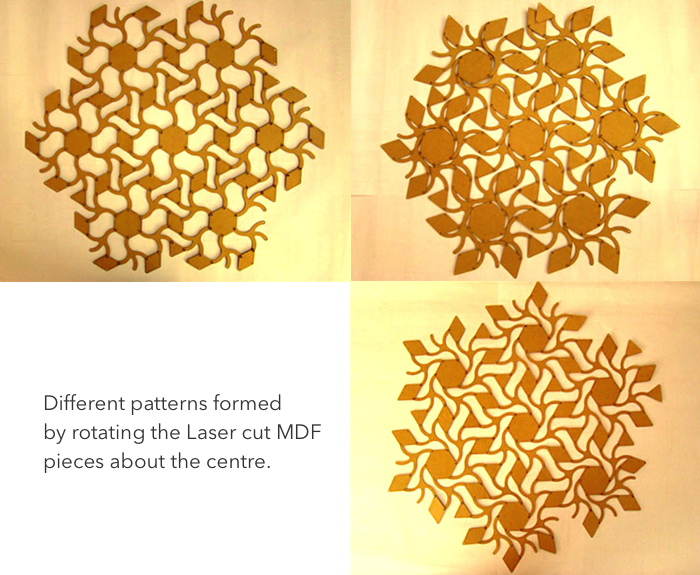 We however noted that the measurements just didn't work. The transition wasn't smooth. After several iterations of adjusting the dimensions and rivet sizes, an acrylic prototype was made.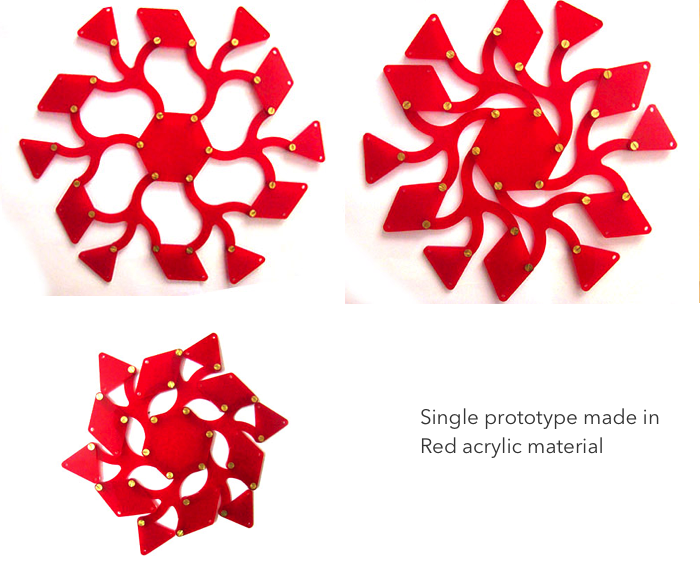 Each prototype consisted of 1 hexagon, 5 triangles, 6 rhombi and 6 floral pattern figures. All these figures were joined with 24 rivets.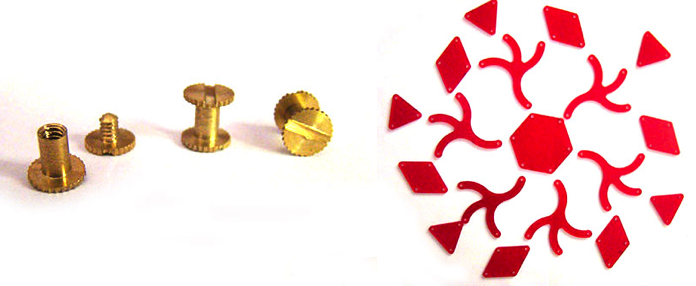 The final assembly was made up of 7 fundamental units.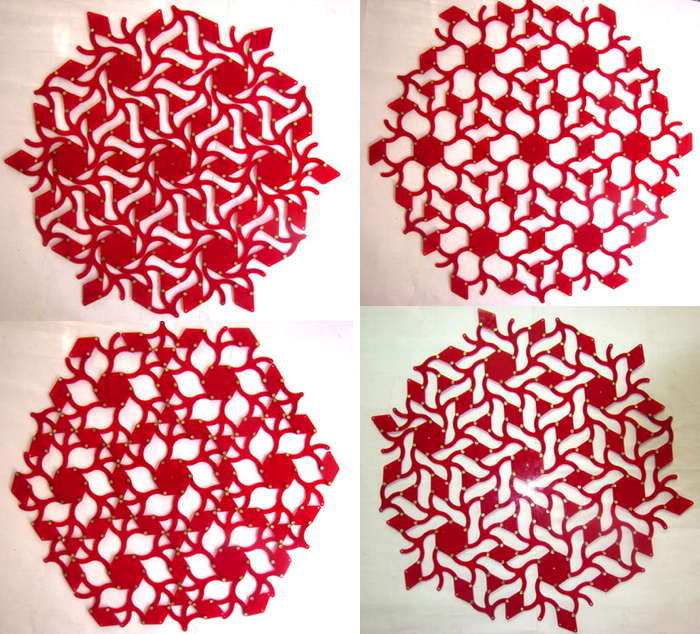 Now, the circuit consisting of L293D Motor Driver (H-bridge PCB; 150 RPM, 12 V DC Motor) and an Arduino Duemilanove (Freeduino) is set up.

Demonstration of motor action on a single prototype unit
The motor was then controlled via sensing the music being played using the Ess library in Processing. The final prototype needs 7 motors synced together, however it was mechanically very difficult to make the facade stand. Hence a frame was made for the installation.